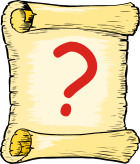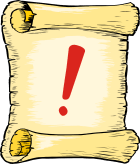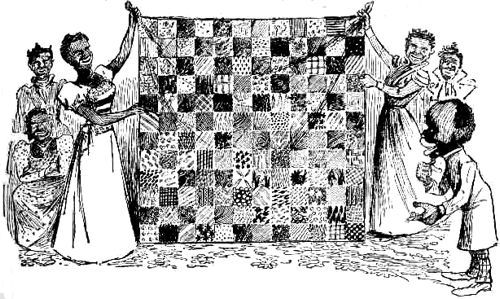 I have already shown how a 13x13 patchquilt could he divided into eleven squares, so, as a further continuation of the same subject, I will ask you to try to find how the ladies of Darktown combined eleven square pieces of patch work, no piece containing less than four squares, into a beautiful 12x12 patchquilt, which they presented to Parson Cinch.
I say every piece must contain not less than four patches because without that stipulation there are two different answers. This is a way that puzzle makers have of patching up patchquilt puzzles, but so long as I have stated that there is a way of performing the feat by utilizing a square of but one patch, it may as well be presented as a second puzzle, so see if you are clever enough to discover both answers.
The Darktown Patchquilt calls for two ways of getting eleven squares, so both answers are given:
---
2. Evolution Puzzle
Nothing produces more fun and amusement for an evening party than the simple game of evolution, wherein you are to transform one word into another changing one letter at a time and always spelling correct dictionary words.
Thus, to transform PIG to RAT in three moves, we might proceed as follows: PIG, PIT, PAT, RAT, or PIG, RIG, RAG, RAT.
East to West — east, vast, vest, west.
Dog to Cat — dog, cog, cot, cat.
Soup to Fish — soup, sour, pour, pout, post, past, fast, list, fish.
Road to Rail — road, goad, goal, coal, coil, toil, tail, rail.
Milk to Hash — milk, milt, mist, mast, mash, hash.
In using the puzzle as a game, the company first agree upon the different pairs of words to be transformed, and then see which player can make all the changes in the fewest moves — the number not being previously specified. Some words take more moves than might at first be supposed. Thus, the reader will, I think, find that ROSE cannot be changed into LILY in fewer than five moves, although SHOE may be transformed into BOOT in three. The latter could not be effected under four moves were it not for the fact that the third letter is the same in each word.
To test your cleverness transform the following pairs in three moves each:
CAT to DOG; BOY to MAN; WOOD to COAL; LION to LAMB; HATE to LOVE.
Transform the following pairs in four moves each:
WARM to COLD; FISH to MEAT; MORE to LESS; FIRE to COLD; RIDE to WALK.
In the evolution puzzles we find the changes:
Cat, cot, dot, dog.
Boy, bay, may, man.
Wood, wool, cool, coal.
Lion, limn, limb, lamb.
Warm, ward, word, cord, cold.
Fish, fist, fiat, feat, meat.
More, lore, lose, loss, less.
Fire, fore, ford, cord, cold.
Ride, wide, wade, wale, walk.
---
3. A Hidden City
"Mr. Conover, if I bring a glass of water will you let me see you drink it? I heard Pa say to Emma: 'Conover drinks like a fish.' lt must be so funny to see a person drink like a fish."
Can you find the name of the town where this little incident occurred concealed in the story?
The hidden city is Macon.
---
4. A Rebus
My first's a distinction; my second a weight.
My whole is employed by the Church, and not by the state.

Cipher Answer.— 19, 5, 24, 20, 15, 14.
---
[Page 65]